Reform and Digital Business Transformation
Reform and Transform Your Business with Confidence
Initial Steps to Business Transformation
Almost every organisation thinks of "systems" as "IT-based" whether hardware or software. This view is one of the first things that has to "change" across the entire organisation when it comes to business reform or business transformation. Business reform is different to business transformation. This first "change" is a lot more than a communication pack or an announcement during the monthly executive meetings. One of the best ways to achieve a successful business transformation is to invest some time, which may not be more than a week or so, to review the Business Blueprint which encompasses business architecture, self-enforced process mapping, operational excellence and business analytics. One of the most important outcomes is to "re-configuration" of people's mindset to honestly believe that, while reporting lines and silos will always exist, everyone must view the organisation as a Service-Oriented Role-Driven setup.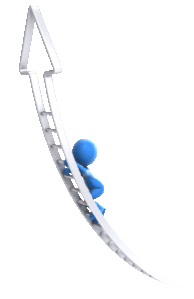 Transform with Confidence
The organisation should consider "systems" as "people" or "things" whether inside or outside the entire organisation or, between departments within the organisation [i.e. silos] or, within one department. Questions that focus on reporting lines are the wrong ones. It is about the "Role" that one or more "system" has to timely execute well-defined tasks to produce prescribed measurable outcomes that contribute to a "Service" concurrently addressing two things:
(a) State the desired outcomes with prescribed measurable, testable and traceable qualifiers that represent the single source of truth for Customer needs; and
(b) Identify the factors that influence the desired outcomes within the context of operational dynamics (i.e., moving parts) of the business environment.
The desired outcomes of any business target (which justifies the existence of the organisation in part or whole) are the realisation of the interactions [or interfaces] between the moving parts of your business in time (i.e., the business operational dynamics). Before you worry about the "Digital" portion or worry about information gathering and dissemination, make sure you "Engineer" your processes for OPTIMAL desired OUTCOMES. Engineering the business for optimal operations will help you decide on various aspects including the type of data you need, the frequency of gathering such data, the type of analysis and, assess as to whether the outcome is actionable to impact the desired business need(s), determine the realised benefits.